What Is Fiverr & Is it Worth it?

You've heard of freelance websites, but maybe you're asking yourself, "What is Fiverr, and what's it all about?" 
At its core, Fiverr connects customers with freelancers looking to sell services for as little as $5. The site offers a list of in-demand services, like digital marketing, content writing, graphic design, and IT help. 
It doesn't stop there.
Some of the more whacky gigs include prank callers, a fake boyfriend/girlfriend service for social media, and sellers writing promotional messages while doing silly things. You can check out some of the funniest gigs on Fiverr here. However, these satirical gigs are rare. Fiverr is more widely used for serious, legitimate services. With over 20 million registered users from all around the world, there's no shortage of talent available to help make your life easier. 
This article will explore how Fiverr works–including what it is and who can use it–and whether or not it's worth your time. We'll also discuss a few pros and cons for those who've never used the platform before (some of which might surprise you!). Sit back and relax. Let's get started.
How Does Fiverr Work?
Fun fact: When Fiverr first launched in 2010, all gigs were initially priced at $5, but now freelancers can decide to charge more or offer packages of service options. Orders are typically completed within a day or two, though the delivery time varies. 
Should a less-than-satisfactory delivery of an order occur, buyers can file complaints to be reviewed by Fiverr's Trust & Safety team. However, the satisfaction rate among buyers is around 92%. Still, always do due diligence before hiring anyone and read reviews. 
There are a couple of different ways to use Fiverr's site: 
By browsing 
Fiverr's menus are organized by category. 
You can purchase a gig on Fiverr by simply browsing the site, finding a service you need, and then ordering that gig.

By posting a job
You can also post a job by selecting which work you need to be done and the budget you'll work with. Freelancers will then try to sell you their services. Fair warning: you'll most likely get many messages from sellers pitching you their services. Get ready to read many "why I'm the best at _____."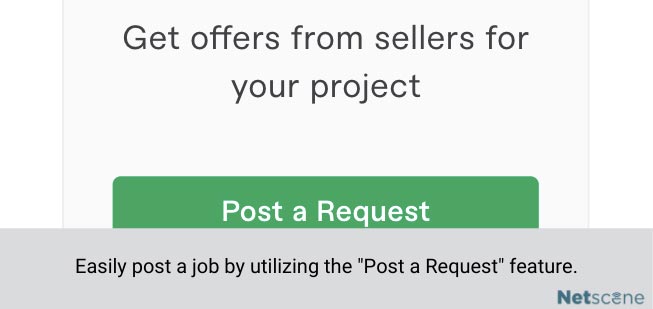 Who Is Fiverr Best For?
Simply put, Fiverr is best for an individual or small business that needs fast results on small tasks without breaking their bank.  Whether you're looking for some quick content or need help with something more complicated, you'll find it all on Fiverr.
Many businesses have begun to outsource on Fiverr. Fiverr has championed the rise of companies outsourcing specific projects and tasks, saving time and money. Fiverr is designed to help businesses thrive by outsourcing work to freelancers. To get the most out of the platform, companies must invest time and energy into establishing a good rapport with freelancers who can provide consistent and quality deliverables.
Is Fiverr Good Or A Scam? Avoid these Mistakes
Fiverr is, for all intents and purposes, a legitimate business. It's not perfect by any means – it does have its fair share of scammers on the site, but there are ways to minimize that risk by only dealing with sellers who have high reviews or ratings (which you can find in their profile). Fiverr also has measures in place to review profiles before they are published onto the website. And if someone violates terms and conditions, they will be removed from Fiverr entirely. If you're unsure of the seller, the best thing to do is ask for samples of work they have done. Once you've made your selection and are satisfied with what you see, proceed with your order. 
Despite a handful of sellers just looking to make a quick buck, there have been millions of successful transactions with satisfied buyers, so it's 100% safe to consider Fiverr when looking for freelancers online. 
Buying on Fiverr
Here at Netscene, we understand that time is money. You could waste your day completing small tasks that take up all of your time, or you could hire an affordable freelancer to make your life easier. 
And good news! Buying on Fiverr is super simple. 
As we mentioned above, to order a gig on Fiverr, you can either: post a request describing your project or idea; or start browsing the available gigs to find one that suits your needs. 
Register an account on Fiverr and select "Order Now." Be sure to read the seller's reviews before finalizing your transaction for safety reasons. 
Fill in your details (name, email address) and pay with Paypal or a credit card. 
It's that simple. 
What Is A "Gig?"
You may have noticed the term "gig" being tossed around freely. And although we love live music, we're not talking about a concert or festival. So what is a "gig" exactly? 
A gig is a freelance term for "service" or a "creative task" posted by a seller. As mentioned before, a gig can be anything from designing an infographic to writing product descriptions for eCommerce websites, creating content for social media posts, building logos or branding images. 
How Much Do Services Cost On Fiverr?
It's no secret that Fiverr can be pretty affordable. Gosh, it's in the name! You can get a logo for the cost of a Starbucks coffee and purchase social media posts for the cost of a footlong at Subway. But you won't only encounter low prices. Gig costs vary from $5 up to $5,000 depending on the quality and complexity of the work required. 
Fiverr works on a 3-tier gig pricing level: Basic, Standard, and Premium. Each tier dives more in-depth with services. For example, the Basic tier for a logo design may include two logos. The Standard tier may consist of 3 logos and a vector file, and the seller's Premium tier could include 4 logos, a vector file, and a 3D mockup. Because of other add-ons (like extra fast delivery and revisions), the average cost a buyer pays is $30-40, which is still highly affordable. 
Fees On Fiverr
Fees. Love them or hate them; they're a part of business and everyday life. Luckily, fees on Fiverr are straightforward. If your gig costs less than $20, expect to pay a processing fee of $2.00. They'll charge you a fee of 5% of the total for orders exceeding $20.00. 
Don't worry, though! You'll see your fees and total price before you place your order, so you'll never be in the dark or blindsided by Fiverr's costs.

What Is Fiverr Pro?
Fiverr Pro is attached to the same marketplace as Fiverr, but Fiverr Pro sellers go through an extensive skills verification process (check out the Fiverr Pro vetting process and requirements). Expect to pay more for these gigs than average. 
While the process of ordering a gig on Fiverr Pro stays the same, Fiverr Pro sellers have a high level of skills and work experience. Every Fiverr Pro gig is labeled with a sleek, shiny badge that screams, "I'm the best!" Buyers will also have the option to filter gigs, so they're shown in order of their quality.
Pros and Cons of Fiverr
Pros
The benefits of using Fiverr are endless. It can save you time, it's affordable, and there are a wide range of services to choose from. We thought we'd break down the benefits into two categories: Individuals looking for a one-and-done gig and small businesses looking to outsource work. 
Pros for individuals
Do you need a logo? Are you struggling to find the perfect video intro for your YouTube channel? Do you want a website with a beautiful, sleek design? Fiverr provides everything from illustrations, web design, and videos that can be created at an affordable price with fast delivery. This means that there are no more excuses when it comes to trying to get things done! 
Pros for small businesses
Every business needs to focus on its bottom line. It's essential to do everything you can to make your money go as far as possible. This includes outsourcing work when needed and finding the best person for the job at the lowest price point.  
Are you struggling to find affordable help that is also reliable? If so, Fiverr might be your answer. Do you want to save time and money? Do you want the freedom of not having to hire an additional employee or train an intern? Fiverr can help with that. Whether it's graphic design, website development, or article writing (and much more), Fiverr has it all for a low cost.
Cons
As we mentioned before, Fiverr can have a few scammers, but these sellers never last long on the platform. When looking for services, you need to look for sellers with good reviews.
The problem with Fiverr is that some prices are just too good to be true. $5 sounds like an excellent price, but there's an unsaid rule among freelance communities: you get what you pay for. If you outsource your Google Ads campaigns or social media management for $5, you'll most likely get low-quality work. Stay quality-conscious rather than cost-conscious and you'll be just fine. 
How Is Fiverr Different From Other Platforms?
We live in a world where there are plenty of freelance websites to choose from. If you're looking for someone talented but quite spendy, it's easy to find them on sites like Upwork or Freelancer. However, if affordability and speed are what you're after, then Fiverr is the place for you. Anytime you need something done, there's a good chance you'll find an affordable service on Fiverr with no hassle or hidden fees like some of the other sites may include. 
Overall, Fiverr is designed to be different from other platforms by giving its sellers more freedom to set prices, be more transparent about fees, and provide tools for instant buyer-to-seller communication. 
Overall, Is Fiverr Worth It For Hiring?
So now you might be asking, "Is Fiverr worth it for hiring?" We think so! With how affordable, safe, and fast deliveries are, you'll be able to quickly see for yourself, too. 
If you need a one-and-done service, you'll easily find what you're looking for. And if you're looking to outsource some of your work but don't know where to start, then Fiverr is a great place for you. 
Fiverr is incredibly unique and diverse. You can find anything and everything on the site. And we mean anything and everything.